Sometimes, things can get hectic in software development. You have deadlines to meet, clients expect quality deliveries and their expectations are high. You hit blockers in development that force you to both re-evaluate your timescale and adapt the way you develop. Above all, you need to keep your head on straight when the pressure is high, so what better way to practice this than a time-limited, highly pressurised environment like a Game Jam!? That's exactly what the students at Dundee & Angus College were doing on Thursday and Friday, and I, Sam, as well as a host of other volunteers, attended to help mentor the teams and judge their work. I used to study at D&A College, and I wouldn't be where I am today without them, so I was very happy to jump in and help them out!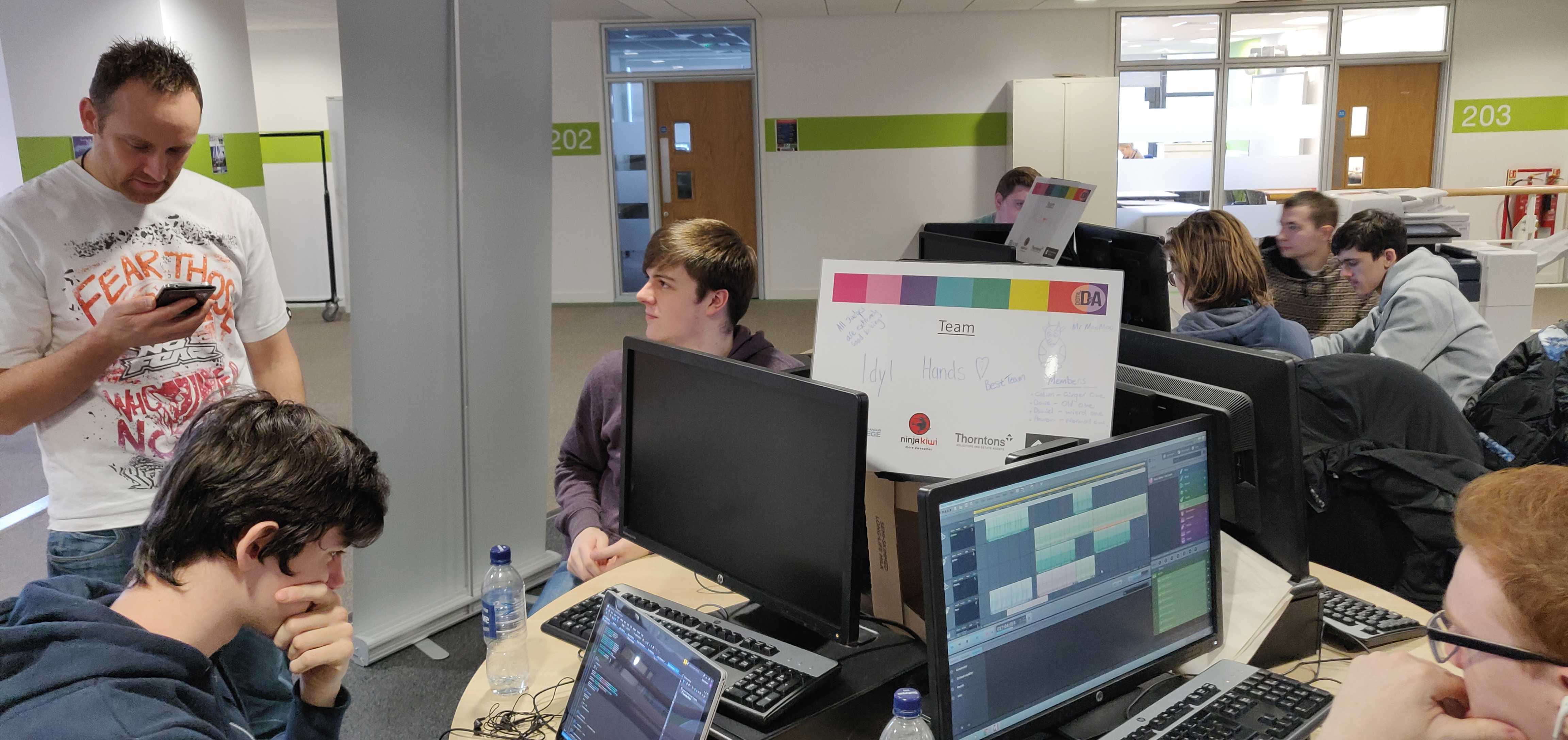 What is a Game Jam?
A Game Jam is a period of constant focussed development, usually 48 hours long, in which teams or individuals have to make a game from scratch. No assets or code are allowed to be taken in to the Jam, everything must be made on-site during the Jam. They're a great way of practicing working and collaborating quickly with others on a goal, and having something fun to play at the end! They're also very collaborative events. Everybody helps each other out with bugs or design issues they encounter, and everybody learns together. It's a fun way to simulate pressure, and can help expand team-working skills, communication and performance under pressure, without any risk.
There were 10 teams of 4 people participating this year at D&A GameJam, with 3 teams winning prizes at the end of the event. The students were a mix of Certification, HNC and HND levels, across various different software development courses. Most of the teams were using GameMaker: Studio 2, an IDE specifically for creating 2D games, with a couple of teams choosing Unity3D for their games, both of which I have experience in. The majority of the students had never made a game before, and this was their first experience creating one and working to such a tight deadline from scratch, so I saw plenty of action helping them out with bugs, technical and process questions, and sharing general software development experience with them.
In the end, 3 teams went on to impress myself and the other two judges. 'Blue Light Games' took the overall prize with their 2D platformer, which was very highly polished for the amount of time they had. It felt like a demo you could very easily take to clients or use as part of a sales pitch. It's very rare for a game to come out of a game-jam so fully formed and well presented! The winners for GamePlay were 'Games R Us' with their password guessing game. You had to explore the level to find clues for a password you've forgotten, then try to decipher the clues and guess the password. All three of us judging were laughing and really enjoyed playing. The team also had the best presentation, sitting us each down at our own individual demos and talking us through development as we played. Very professional, and very impressive. The prize for Best Design was awarded to 'Stick Men', with their 3D exploration game using non-euclidean physics. The gameplay was a bit rough around the edges, however they nailed their concept and design, with some really great 3D objects in their level as well!
There's a ton of benefit you can squeeze out of a Game Jam. You can meet new people, learn new skills and learn how you behave under pressure. I've done over 20 of them now, most of the time coming out with a finished game, and I credit them to teaching me how to handle a lot of pressure, something that I'm under fairly regularly now! They're fantastic teaching tools, and I highly recommend anyone, be you a designer, product manager, artist or programmer, to attend and give one a go. You don't even need a team with you, as most teams will very happily take on an extra pair of hands! Give one a try! I'll see you there!