We've arguably never been in a more challenging time. With the outbreak of COVID-19 many of us have had to adapt to an entirely new way of living. Confined to our homes, unable to see loved ones, troubled with uncertainty and disrupted work routines means that there's never been a more important time to take care of your mental health.
Although it can be a stressful and overwhelming time, there are some fantastic resources and apps that you can access to help you with your own self-care and mental health.
The NHS website has an entire official library of mental health apps which is accessible to everyone. The library includes handy descriptions and direct links to download them from The Apple App Store and Google Play. We'd recommend having a browse through there to see if there are any that could personally help you.
To help, we've created a short-list of some of popular and highly rated mental health apps. We've included a range of different apps that range from free to paid monthly subscriptions.
1. Calm
Calm is an award winning app that promotes meditation and mindfulness. Calm creates audio content designed to strengthen and help users cope with everyday struggles related to anxiety, stress, insomnia and depression.
The app has over 100 guided meditations to help users manage their mental health and indulge in mindfulness. The programs cover a wide range of topics and there are also programs that include sleep stories, relaxing music, audio masterclasses and nature scenes to watch.
Calm offers a 7 day free trial and after that, it's a £29.99 annual subscription.
Download Here:
2. Moodpath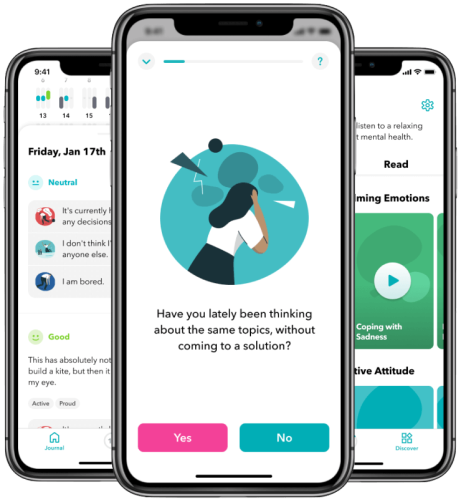 Moodpath is a leading health and wellbeing app that describes itself as your "personalised mental health companion". It's designed to help those with depression and anxiety on their journey towards better emotional well-being. The great thing is that It's also free!
The app allows you to assess, track and reflect on your mental health. It allows you to answer daily questions about your emotional and physical wellbeing and obtain bi-weekly mental health assessments. It also is a handy way to track your moods and emotional states and provides helpful and supportive insights to understand patterns and triggers.
You can then choose from a variety of audio and written cognitive behavioural therapy (CBT) exercises to help you understand the psychology behind your moods and emotional state.
Download Here:
3.Streaks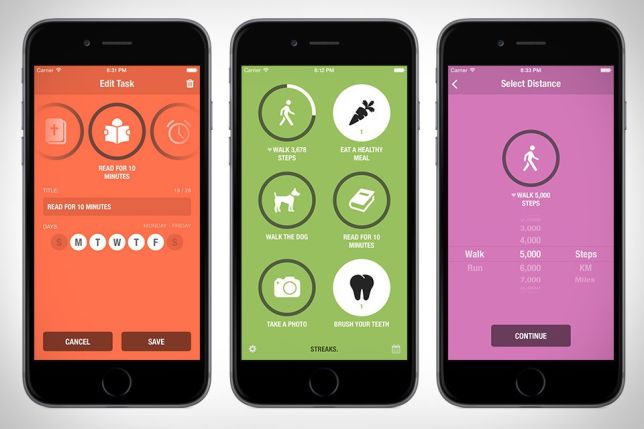 Streaks is a to-do list which helps users to form healthier habits. The app is designed to hold you accountable to your own personal goals. Users can track up to 12 tasks that they want to achieve each day and the goal is to build up a "streak" over a consecutive amount of days. Tasks are customisable to your own goals but some of the more popular tasks include things like ;
Walking 5000 steps a day
Reducing caffeine and junk food intake
Drink more water
Call friends and family
Flossing your teeth
Streak automatically reminds you to complete tasks and tracks this within the health app. It helps users to build up a bank of their accomplished tasks.
The app is only available on iOS and costs £4.99 with the additional option of in-app purchases. Download at the Apple App Store.
4. 10% Happier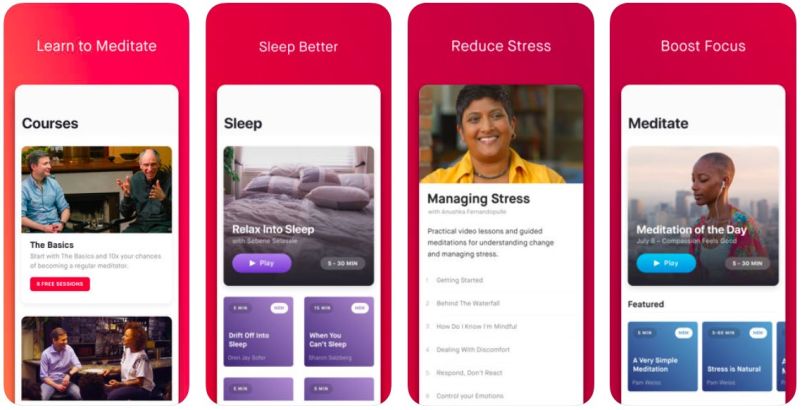 10% Happier is another meditation app that includes guided meditations and exercises to reduce stress, anxiety and promote sleep. The app was made by ABC news anchor Dan Harris, who had a panic attack live on air and turned to meditation. Interestingly, the app differentiates itself on the basis that it is designed to "convert skeptics".
At the moment, they are offering a corona virus sanity guide, which is free for front-line workers. It's a resource library of videos and podcasts designed to help users mentally navigate the corona virus pandemic, with new content uploaded daily.
10% Happier offers a 7 day free trial then costs $99 a year thereafter.
Download here:
5. Think Ninja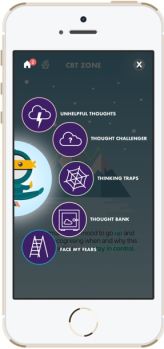 Think Ninja is a mental health app designed for 10-18 years olds to help them learn skills around emotional health and mental wellbeing. With many young people's daily routines turned upside down due to COVID-19, this app is a great way to help.
The app uses the principles of cognitive behavioural therapy (CBT) to help young people talk and manage stress. Features include an AI-drive chatbot that acts as a virtual coach and mentor, goal setting and mood tracking. They also have corona virus specific content to help young people manage their mental well-being.
The app is free to use during the corona virus pandemic. The Think Ninja mental health app has been commissioned by the NHS and is free to download on:
There are a number of other fantastic mental health apps available across The App Store and Google Play and available through the NHS. We hope that this is helpful and from the entire team at xDesign, take care and stay safe.