Here at xDesign we've been supporting our clients' digital product development, both on site & remotely, for over 10 years. In that time we've learned a thing or two about what it takes to get the job done. In this weekly series we'll be reviewing some of the digital tools that we enjoy using to enable collaboration and drive productivity in our product partnerships.
We begin with Miro, which describes itself as 'the online collaborative whiteboarding platform to bring teams together, anytime, anywhere'.
So what is Miro?
Miro is a collaborative tool that allows teams to manage all elements of product development in one place – from visualising complex concepts and brainstorming, to managing agile workflows to process mapping and more.In our experience, it has undoubtedly helped boost productivity here at xDesign & with our clients.
We've worked with other similar platforms but Miro offers a lot more in terms of features. It's also very intuitive – it comes with plenty of demo videos but you can pick up a lot simply by diving in and playing around.
What do we like about it?
Miro makes it easy to build a journey and it saves a lot of meeting set-up time. It's particularly engaging if you're a visual learner.
The stand-out feature is the set of agile templates. Personas, road maps, story mapping and customer journeys are all provided – they're well thought out and save a lot of set-up time. Also, if you create a custom board, you can export it as a template and use it again.
Miro's frames allow you to define sections of a board as slides so you can walk it through like a slide show – this is really helpful in terms of organising the content.
The presenter mode saves time and hassle by enabling everyone to track what the presenter is doing on their board without having to use extra screen sharing software such as Google Hangouts, Zoom etc.
It can be hard to think straight when everyone is talking so having the opportunity for quiet moments is valuable. Miro enables working alone, together, providing the option of breaks where people can reflect on the board and add comments. You can even put people on the clock!
Unlike with physical sticky notes, nobody needs to type up notes afterwards –with Miro, it's all there, ready to distribute. That's handy for those involved in the project but also means you can build up a bank of discovery sessions to be shared more widely across your organisation.
Any downsides?
You can take the sticky notes you've created and add user stories and business logic to provide a bit more depth. However, frustratingly, if you then want to share the notes as PDFs, that deeper layer of information isn't captured by the export function.
How have we been using it?
Our product teams have been using Miro for several months, both for remote working and for working face-to-face with clients. Now, given the new and unexpected near-universality of remote working, and the transition to 'digital discovery workshops', our teams are working together and sharing learnings to create our own custom templates and workflows, to help both us and our clients.
Last week, for example, we used Miro for a discovery session with a client to explore their product vision for an application. It enabled us to start compiling a user journey and we then got everyone to mark their favourite product features through dot voting, shaping the minimum viable product. It's a clear visual process, helping everyone to understand where they're heading.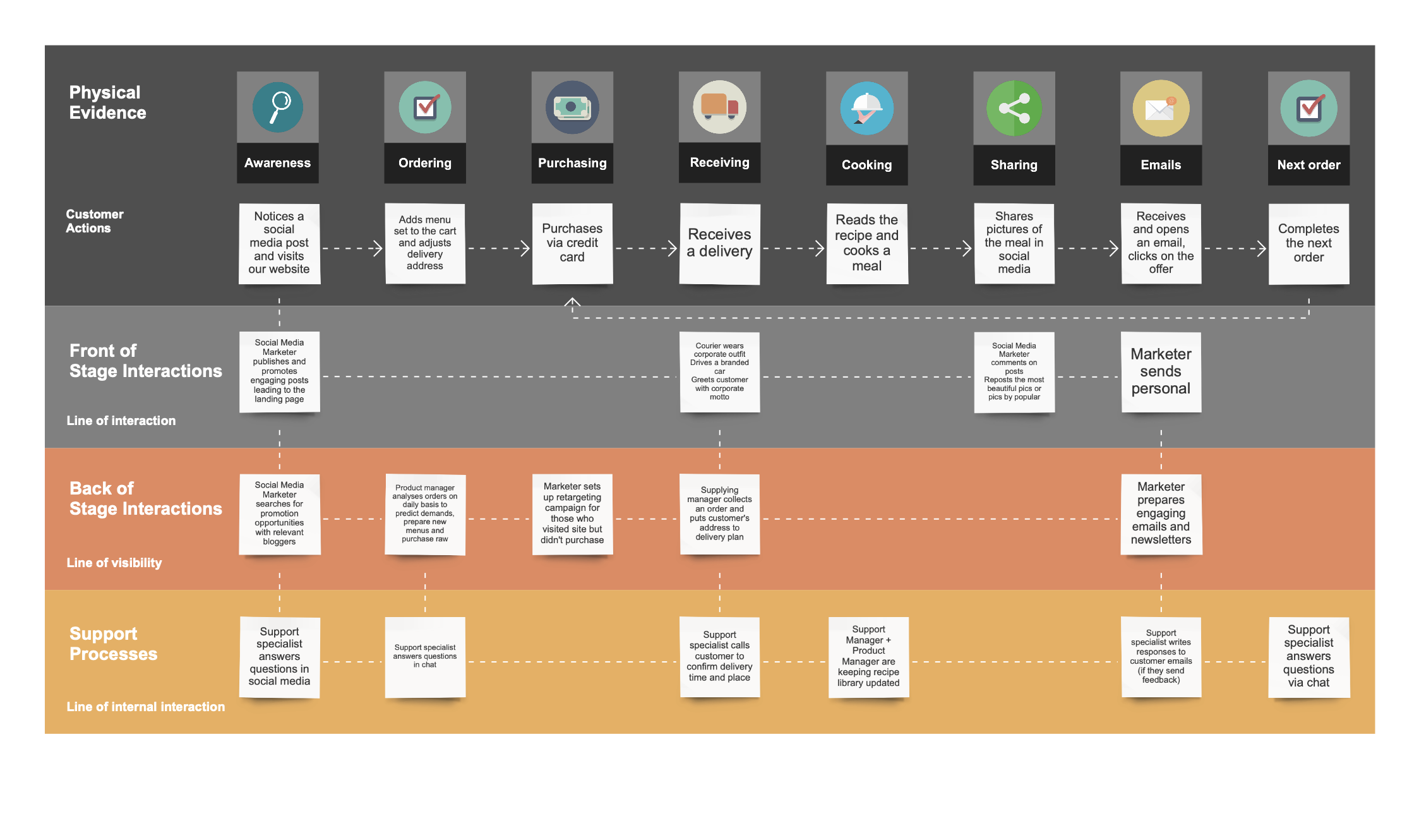 User tip?
Miro allows you to turn off the collaborative function and drive the discussion forward should you need to. There are times when collaboration works really well but it can also lead to noise and confusion. Knowing when to take control of the conversation, or ask someone else to, is important.
What else should I know?
Make sure you understand the billing options. When we first started using Miro, we had an account which meant that all our projects were included and it was difficult to invite clients to collaborate without giving them access to everything. Now on the consultant plan we get a limited amount of free day passes that lets us invite colleagues and clients to the boards for 24 hours (be aware that when these run out - and they quickly do - each additional user pass costs $3 per day). For starters though, you can open a free account that allows you and your colleagues to explore the options and decide if it's for you.
Will we carry on using it?
Absolutely. Our product teams have been using Miro for several months, both for remote working and for working face-to-face with clients. However when we finally return to physical workshops, we expect Miro will be a central part of our process. Instead of putting paper sticky notes up on the whiteboard, there's no reason why we couldn't be showing this digitally on a TV screen. Within minutes of the meeting being over, we'd be able to export the key information to everyone involved. Job done.
What's next?
We'll be reviewing a new digital tool each week, stay tuned for more recommendations from xDesign's #digitaltoolbox and to discover more about how we put them to use, for the benefit of our teams & our clients.
If you have any questions about how to enable collaboration and drive productivity within your organisation, please get in touch. We're always keen to share best practice.