There has been a big uptake in the last few years of companies turning to no code and low code app development platforms to build enterprise and customer facing mobile apps. These have created immense value and some of the app development platforms are growing in sophistication each day.
Gartner refers to this as "High Productivity Application Platform-as-a-Service" or HPaPaaS (what a mouthful! For those of you wondering that's pronounced "Huh-Pap-Ass"). It essentially refers to rapid application development (RAD) platforms which provide business developers with the specific tools to build enterprise applications with "one button" deployment. Many of the low code/ no code platforms on the market seek to empower users to run applications as well as create them.
The difference between no code and low code app development
The fundamental difference between low code and no code app development platforms essentially comes down to:
Approachability
Ease of use
Level of technical knowledge that the end user is assumed to have
People frequently misunderstand and lump the "no code" and "low code" development products together when in fact there are some fundamental differences between the two.
No code app development platforms
With no code platforms, it is assumed that the customers have no programming skills whatsoever. It's usually a visual system that allows users to drag and drop certain elements and processes into the app. Typically all services such as database, SOAP, and ReST APIs, CRM, security and other external services are integrated integrated into the application through easy to use interfaces.
Low code app development platforms
Low code assumes that customers are slightly more technically proficient. It's still normally an easy to use visual interface that will incorporate drag and drop features but there may be additional functionality and/ or widgets that a user may want to add. This will require the user to have a certain level of coding and technical knowledge to be able to build and customise exactly what they need.
Which one is best?
There are a number of advantages to using a low/no code app platform including ease of use, speed and easy deployment. Which one you ultimately decide to go for will be dependent upon your business objectives and also your employees level of technical proficiency.
We take a look at some of the most popular low code and no code app development platforms.
Examples of no code app development platforms
AppyPie
AppyPie is one of the "fastest growing cloud based mobile app development platforms" boasting over 1.5million apps built over the last four years.
They have a free version (with ads) which allows users to build web applications. It makes it possible for their users to get familiar with the tool and test it before purchasing. They have a lot of cool features such as AR and CRM and they even allow you to build your own apps using templates rom some o the worlds most popular apps like Uber and Tinder.
During our research, it looks like the editor is decent enough to build a basic app but more advanced features rely on third party solutions and pre-built templates and design which some users are claiming are dated.
Buildfire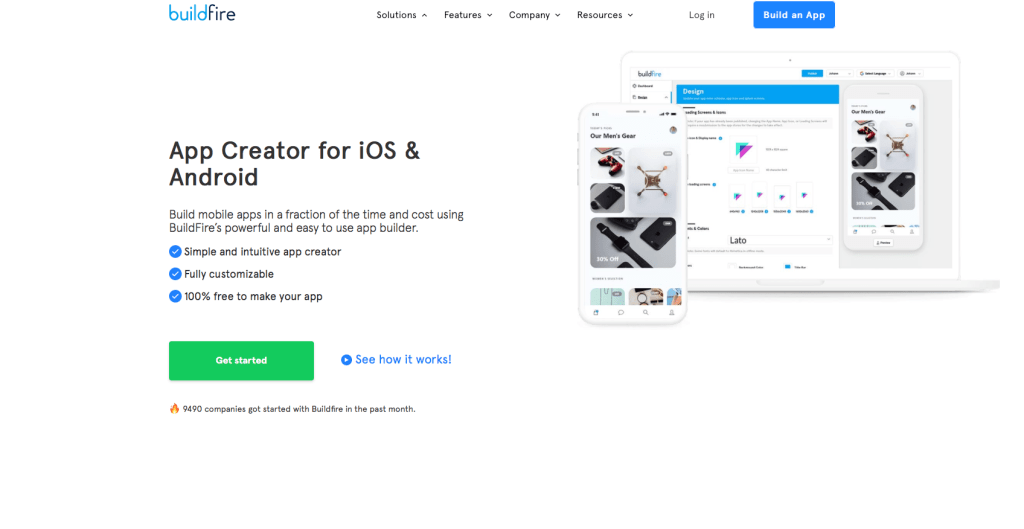 Buildfire has a wealth of different themes which are designed to suit a range of different industries. They differentiate themselves by offering a team of app designers and engineers which can be hired to further customise your app, should you require it (at an additional cost). This could be a good idea for those that require more technical functionality but don't have the money to invest in full native development. Buildfire also submit to Google Play and The App Store on your behalf. This option could be a good one if you are a small business looking to create your first mobile or progressive web app (PWA).
GoodBarber

Goodbarber has a fantastic aesthetic. It has a wide range of industry themes to choose from and they offer some more advanced features than some of the other option on the market including social networking, geofencing and i-beacons. They have also added in functionality for push notifications and chat functionality through their third party integrations.
Examples of Low Code App Development Platforms
Appian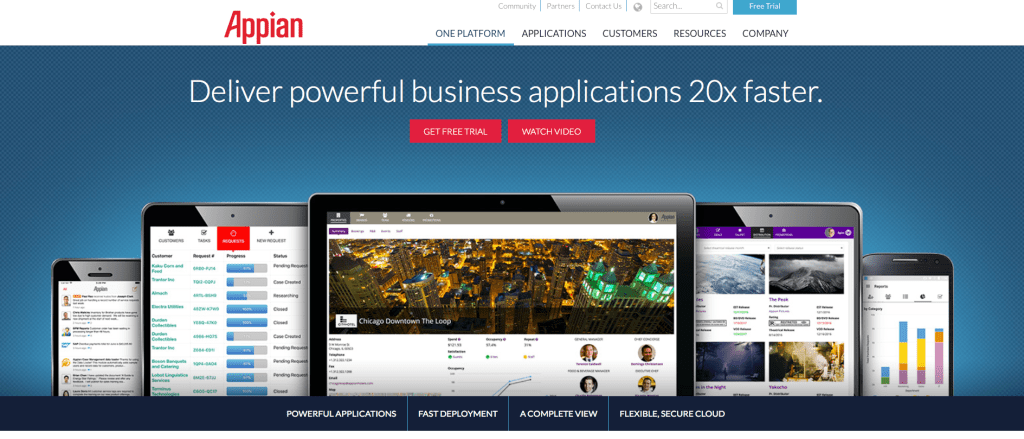 Appian has been in the low-code development space for a while and has built up a loyal customer base. It has the usual suite of tools and features you'd expect including drag and drop interfaces, third party app integrations and mobile app development.
It's core functionality enables users to build business process management apps (BPM). It allows users to automate potentially complex processes and create apps which can be deployed across any device.
Some users have claimed that the system work well for mass deployment of business process automation but has very limited debugging and doesn't scale as easily as one would expect.
Google App Builder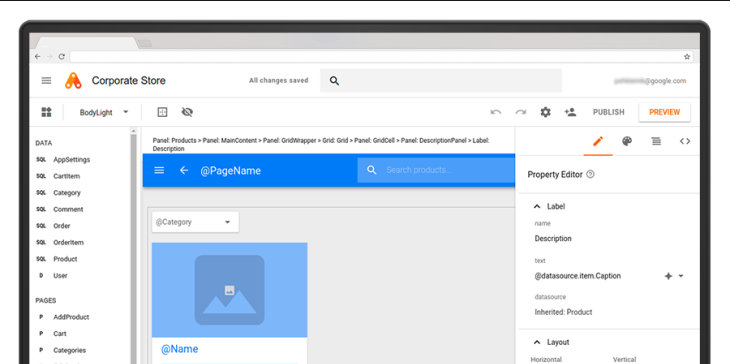 Google App Builder is one of the newest market entrants (it was only a matter of time!) and has a specific focus on the build of native mobile apps. Announced in 2016, the google App Builder gives developers a simple and intuitive low-code platform experience that's available through G Suite Business. From a business user perspective, the platform provides an easy guided experience to create apps that look professional. From a developer perspective the UI and data model are reportedly easy to use and handles data changes to the model flawlessly.
Outsystems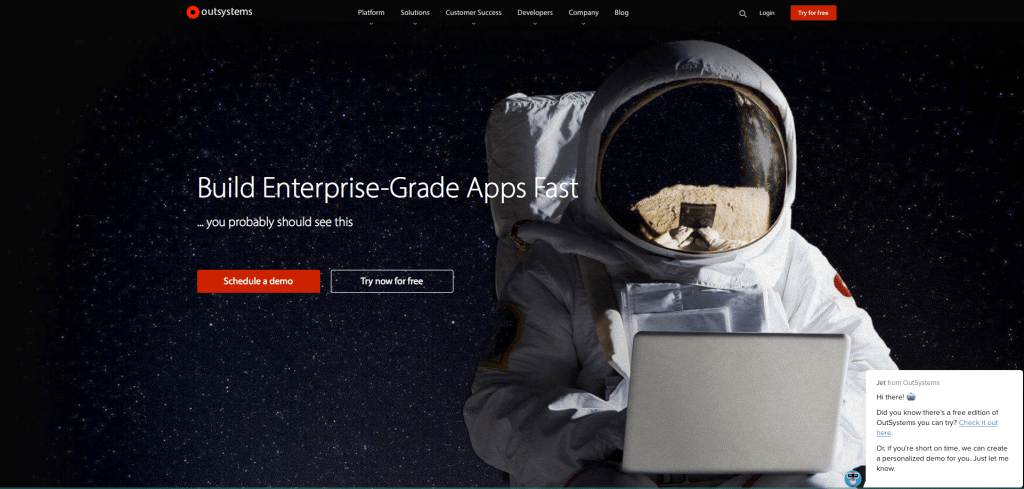 Outsystems is one of the most highly rated low code app development platforms for building enterprise scale apps on the market today. It boasts a full suite of features including a WSIWYG editor, visual drag and drop, process and workflow mapping and one click deployment.
When to consider custom app development instead
No doubt some of the low code and no code platforms have some fantastic functionality and business globally are benefiting from these. These specific platforms can be a great tool or businesses looking to build automated enterprise solutions (i.e. CRM, expense reporting, inventory management etc).
However, businesses with a more complex set of needs - for example being able to cater for a wide range of users and process large and complex data sets - would benefit more from custom native app development to fully leverage all of the features and functionality of high functioning and quality mobile application.
It's also important to understand that the key to success of mobile app development is dependent on a solid understanding of mobile user experience, mobile software engineering best practices and knowing how to properly optimise the experience for maximum efficiency. There's also a number of issues around scalability of low code/ no code solutions. If you need an app that will scale with your business, we would always recommend building a custom solution.
In a nutshell, if you need a basic app that automates processes and speeds up efficiency in the short term, no code or low code platforms are an option for you.
If you require more sophisticated and specific functionality tailored to your exact needs, we would strongly recommend custom app development, built by software engineers with the right experience and knowledge of how to design digital systems to cater to your exact needs and requirements.
xDesign specialise in building custom native mobile and web applications- we've got the expertise to help you solve your business challenges or exploit a digital opportunity. Contact us today for a chat!